Paroles et traduction de «Ballad of William Kidd»
Explications :

Comme l'indique son titre, ce morceau est dédié à l'aventurier et pirate William Kidd. Voici une vidéo de "Pour La Petite Histoire" vous narrant l'histoire de ce célèbre héros :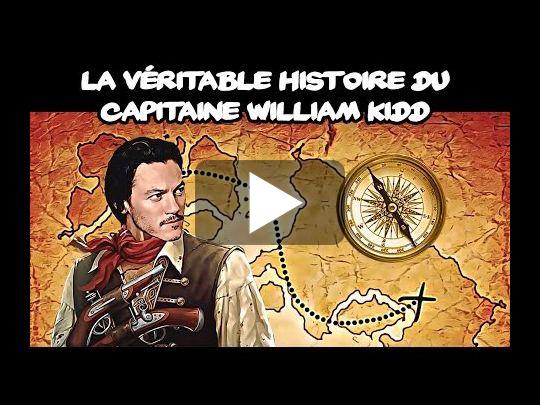 Traduction :

He was born at the shore of Greenock in the year 1645
Il est né au rivage de Greenock en 1645
Ran away at the age of fourteen, to flee from his soul-killing life
Il a pris sa vie en main à l'âge de 14 ans
He signed on to sail the wild-winds
Il a signé pour naviguer avec les vents sauvages
But he worked down his hands and his knees
Mais il a travaillé en usant ses mains et genoux
He stood his test on the waters, so they said he was bred to the sea
Il a montré ses preuves sur les eaux, alors ils ont dit qu'il a été élevé par la mer

In 1697, the "Adventure..." was setting its sails
En 1697, l'"Aventures..." a mis les voiles
With the letter of marque and reprisal, Kidd was prepared for his trail
Avec la lettre de marque et de représailles, Kidd a préparé sa route
They sailed the sea with the mission, to hunt down "Tew" and "Long Ben"
Ils ont navigué avec la mission de chasser "Tew" et "Long Ben"
A serious riot was rising, so Kidd struck down one of his men
Une sérieuse émeute a éclaté, alors kidd a frappé un de ses hommes
And he died !
Et il est mort !

Blue-blooded men they fell from grace
Les hommes au sang bleu sont tombés de grâce
Piranhas eating their own
Dévorés par les piranhas
They sacrificed at the altar of lies
Ils se sont sacrifiés sur l'autel des mensonges
So fate took its course in the ballad of William Kidd
Ainsi le destin trace sa course dans la ballade de William Kidd

The "Adventure..." returned to her hometown, Kidd was forced to defence
"L'Aventure..." est retourné à son port, Kidd est forcé à la défense
They charged him with looting and murder, his patrons and generous friends
Ils l'ont chargé en pillant et assassinant, ses patrons et généreux amis
He'd left his crew at St. Thomas, to guard his honour from shame
Il a quitté son équipage à St Thomas, afin de préserver son honneur
But the lords they lied like a trooper, not to lose their own heads in the game
Mais les seigneurs ont menti, tout ça pour ne pas perdre leurs têtes dans le jeu

Blue-blooded men they fell from grace
Les hommes au sang bleu sont tombés de grâce
Piranhas eating their own
Dévorés par les piranhas
They sacrificed at the altar of lies
Ils se sont sacrifiés sur l'autel des mensonges
So fate took its course in the ballad of William Kidd
Ainsi le destin trace sa course dans la ballade de William Kidd

The lords testified their unholy lies, to save their own heads from the gallows
Les seigneurs ont témoigné de leurs mensonges impies, afin de préserver leurs têtes du gibet
They sacrificed Kidd, they took him for a ride, that conspiratorial fellows
Ils ont sacrifié Kidd, ils lui ont mis la corde au cou, soutenus par les conspirateurs

They judged him and they found him guilty of piracy on the high seas
Ils l'ont jugé et ont trouvé le reste de sa piraterie parmi les mers
Betraying men of honour, you know lie and cheat as they please
Ils trahissent les hommes d'honneur, vous savez qu'ils aiment la tricherie
A case of judicial murder caused the death of the seafaring man
Des assassins judiciaires ont causé la mort de l'homme des mers
Slanderous bunch of liars, to hell your souls will be damned
Des tas de menteurs tueurs, que l'enfer accueille leurs âmes

Blue-blooded men they fell from grace
Les hommes au sang bleu sont tombés de grâce
Piranhas eating their own
Dévorés par les piranhas
They sacrificed at the altar of lies
Ils se sont sacrifiés sur l'autel des mensonges
So fate took its course in the ballad of William Kidd
Ainsi le destin trace sa course dans la ballade de William Kidd